Stone villa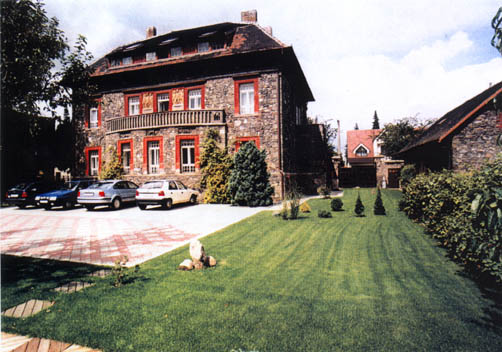 The entire stone villa is one of the most valuable new-renaissance buildings in town. Many of famous artists and architects participated on its fashion. Villa itself is registered in central list of culture sights and monuments. Stone villa is new-renaissance three-story building with wagon-headed roof, facade made of non-coated jointed breaking stone and additional embossments. There are outdoor and indoor artistic as well as craftsmanship works.
The estate is located in Pardubice, U kamenné vily street, about 500 m from commercial center of town, which is trade, industrial, culture and bussines center of eastern Bohemia with more than 100.000 habitants. It was built in 1913 - 1921 and in 1997 the extensive alterations and repairs were done in order to create a presentable company seat. The alterations covered all indoor premises. Beside the dispositions changes which restored the original function of building the partial replacement of non-typical windows and repairs of the current ones, repairs and restorations of doors with marquetry, repairs of floors as well as indoor ceiling plasters were implemented. The brand new power water and gas distribution frames including three boilers with automatic regulation were established. On every floor the social facility was built. There were also 11 telephone lines established together with superior security system with bars in the entire ground floor as well as basement floor. Even the copper tinsmith works were restored.
The building is situated in rest quiescent area on the space of 1070 m2. The surroundings is maintained by gardener. Car park has the capacity of 12 cars.
This presentable building is advisable for representation of native as well as foreign companies or even for common housing.
HOME PICTURES INTERIOR PLANS CONTACT
---

---